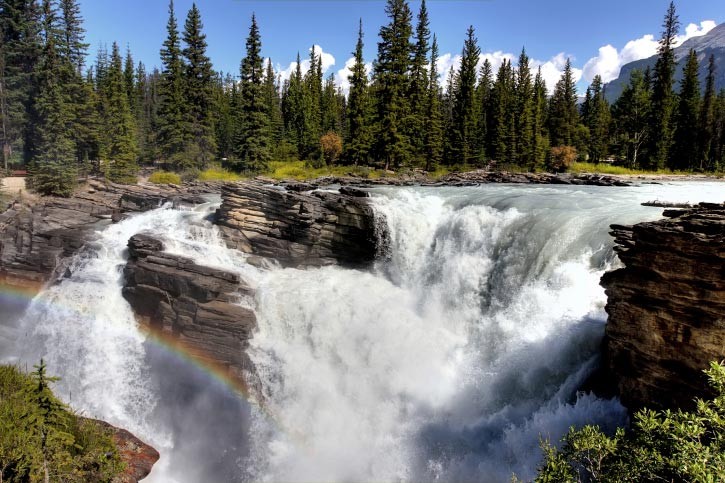 There are innumerable natural attractions in our area but one you wont want to miss is Athabasca Falls.
Athabasca Falls may not be very high in comparison to other falls – only 23 meters (under – but the volume of water that rushes over it makes it one of the most powerful waterfalls in the Canadian Rockies. Even on cold fall mornings, when river levels are often at their lowest, a great amount of water flows over the falls. Fed by the Columbia Icefield glaciers, the Athabasca River is the largest river system in Jasper National Park.
The Athabasca Falls formation is composed of hard quartzite above and softer limestone below, which accounts for the intricate carving and potholes of the short gorge. A steady mist collects to form a slippery film on much of the surrounding area but various platforms and trails situated around the attraction allow for safe observation.
The base of the falls is a starting point for some whitewater rafting tours that will transport you to scenic areas only accessible via the Athabasca. In the winter season, track-set cross-country skiing trails are to be found nearby.
Getting There:
Athabasca Falls is an hour and a half drive from Mountain River Lodge but through some absolutely breathtaking Canadian Rockies scenery. The falls have parking, a paved trail with picnic sites and restroom facilities.
Interested in Whitewater Rafting down the Athabasca?
Jasper's Whitewater Rafting Company: www.whitewaterraftingjasper.com
Rocky Mountain River Guides: www.jasperrafting.com
Maligne Rafting Adventures: www.raftjasper.com
Jasper Raft Tours: www.jasperrafttours.com