THERE'S SO MUCH TO SEE AND DO!
Come along as we explore all there is to do in the Mount Robson Area.
Mount Robson Mountain River Lodge is ideally located, offering guests an opportunity to experience the great Canadian wilderness in comfort and charm. Conveniently situated as the nearest accommodation to Mount Robson and Jasper National Park on highway #16 north-west. Guests can enjoy local attractions and local activities, and at the end of the day, have a quiet retreat to relax at. Favorite area things to do:
Hiking – Kinney Lake and Berg Lake trail, Rearguard Falls, Overlander Falls, Little Lost Lake, Jackman Flats
Activities – White water rafting, horseback riding, fishing, and mountain biking
Day Excursions to Jasper – Jasper National Park, Maligne Canyon and Lake, Jasper Tramway, Mount Edith Cavell, Columbia Icefields
On-site Things to Do
In addition to exploring all our stunning area has to offer, there's quite a bit of fun and relaxing to be had right here at the Lodge. Enjoy the outside deck right by the water, or visiting with friends on the outdoor covered lounge area watching the wildlife pass by. Nothing ends a perfect day in the area more than sitting around the private camp fire at your cabin.
Click on the images to view larger pictures.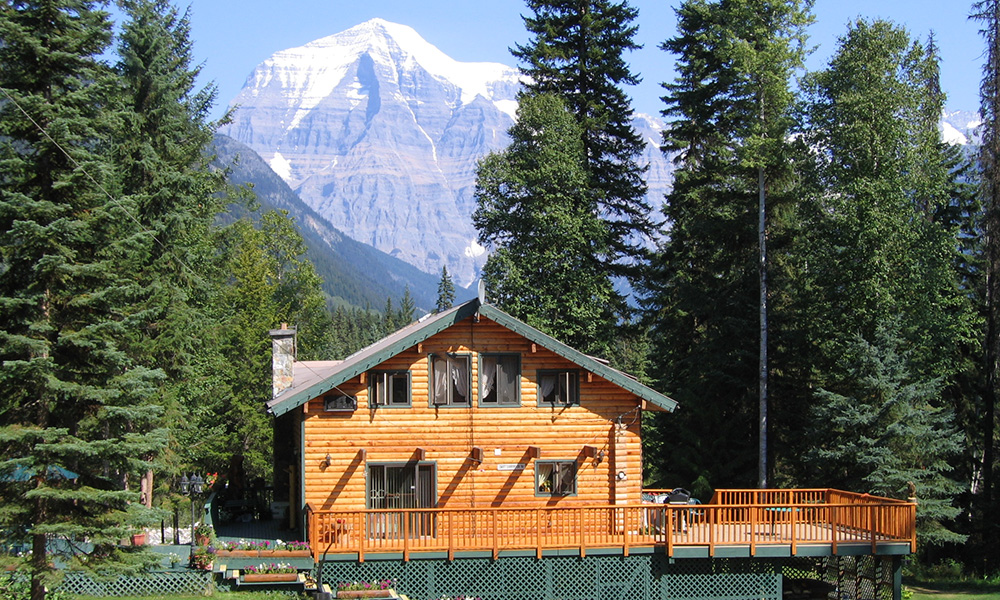 More about Area Things to Do:
Dining and Shopping: A café at the Mt Robson Info Centre offers breakfast and lunch. 20 minutes is Valemount with many dining options, including Caribou Grill, 3 Ranges Brew pub, Swiss Bakery, Funky Goat Food Truck, Summit Grill and Cranberry Lounge If you're touring Jasper for the day, you'll discover many dining options. Jasper also has many gift stores for shopping.
Activities: Heli-hiking and Cat-skiing are great ways to explore the mountains year-round. There's also white-water rafting, exploring trails by foot, mountain bike, ATV, or on a horse. The Valemount Bike Park, is loved by many riders. Golfers will love Valemount Pines and Jasper Park Lodge golf resort. Boat one of our lakes, creeks and rivers, or find a fishing hole to spend your afternoon casting away. Visit the Things to Do section of the Tourism Valemont site for more info.
For birders, a walk up the Kinney Lake Road, just a few minutes away from Mountain River Lodge, can produce sightings of magnolia warbler, blackpoll warbler and Tennessee warbler species not seen in other parts of BC. In addition, bird watching has reached new heights at the Starratt Wildlife Sanctuary. Created as a protected area in 1985 by the conservation group Ducks Unlimited, is now enjoyed by enthusiastic local and bird watchers from around the world. An interpretive trail, maintained by a local hiking and trail club, explains the many plants and animals found here, as it winds through and around the marshlands.A knowledgeable guide will steer you through the marsh and point out hidden nests of goslings, beaver lodges built of sticks and mud, and show you a world unseen by many.
We're also a Hummingbird heaven. While we always have many of these precious birds calling the lodge home for the summer, we were amazed at the number this summer. Once the babies were born, there was approximately 70 birds buzzing about. They are very active and entertaining to watch as they chase each other away from one of the 5 feeders, of which we fill several times a day. They're very busy, and they keep us busy too. Read our blog post for more info on Western Rufous Hummingbirds.
For even MORE to do, visit our Things to Do category in our blog.
What our Guests are Saying: "Thank you so much for having us at your wonderful homestead. It quite literally took our breath away. We feel very lucky to have found you, and we'll certainly visit again."