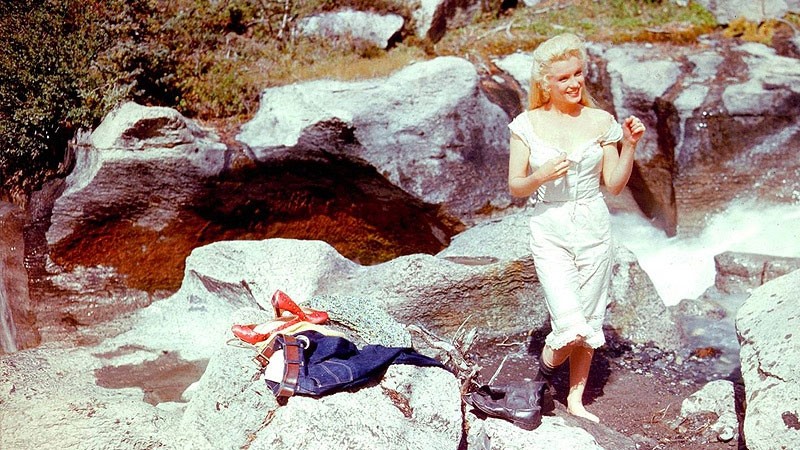 Our area is well known for its natural beauty but most people aren't thinking of Marilyn Monroe when they remark on it. Residents of Jasper might, though, because Jasper Remembers Marilyn.
The Jasper Remembers Marilyn exhibit at the Jasper-Yellowhead Museum is a fond look back at a summer in the distant past when big name Hollywood invaded the small, mountain town of Jasper, Alberta.
It was the summer 1953 when the full cast and crew of a big-budget western by the name of "River of No Return" came to film in Jasper. Director Otto Preminger was here, and stars Rory Calhoun and Robert Mitchum were on hand along with, you guessed it, Marilyn Monroe. To be sure, lots of folks were excited to have a Hollywood production in town but Marilyn garnered most of the attention. After all, the museum exhibit isn't called "Jasper Remembers Rory."
The exhibit, open until September 22nd, features both production and informal photos as well as the remembrances and stories of Marilyn, her co-stars, and the filming.
The museum was surprised by the overwhelming response its staff received when they asked people to talk about Marilyn's visit. Some of the stories collected contradict each other but part of the exhibit is this fact that people's memories differ, even when two or more people witnessed the same event.
Regardless of any contradictions, the overall picture presented is that of a cast and crew who weren't too good to interact with Jasper's residents. Marilyn, in particular, seemed both charmed and charming, leaving smiles and goodwill in her wake.
The Hollywood icon's untimely death in 1962 was sad for all who appreciated the star but especially for those who'd met her. Jasper Remembers Marilyn helps to resurrect the happier memories of her legacy with its unique tribute to the star and those whose lives she touched.
Jasper Remembers Marilyn
For further Information on the Jasper Remembers Marilyn exhibit at the Jasper-Yellowhead Museum, please visit: www.jaspermuseum.org
Jasper Lodging
At Mountain River Lodge we have stand alone cabins and a lodge. We would love to be your lodging choice during your visit to Jasper.