THE 2nd OLDEST PROVINCIAL PARK IN BC
Part of the Canadian Rocky Mountains World Heritage Site
Mount Robson Provincial Park is in east-central British Columbia just west of the Alberta border and Jasper National Park. It is approximately 1 hour hour west of Jasper town on Highway 16, four hours north of Kamloops on Highway 5, three hours east of Prince George.  The closest communities are Valemount, McBride and Jasper. Mount Robson Park and 7 other connected parks make up one of the world's largest protected areas. As part of the Canadian Rocky Mountains World Heritage Site, Mount Robson Park protects the headwaters of the Fraser River and guards the park's western entrance. It towers at 3,954m and is the highest peak in the Canadian Rockies. Winter or summer, this is one of the finest views in the Rocky Mountains.
Mt Robson Park Photo Gallery
Click images to view them larger.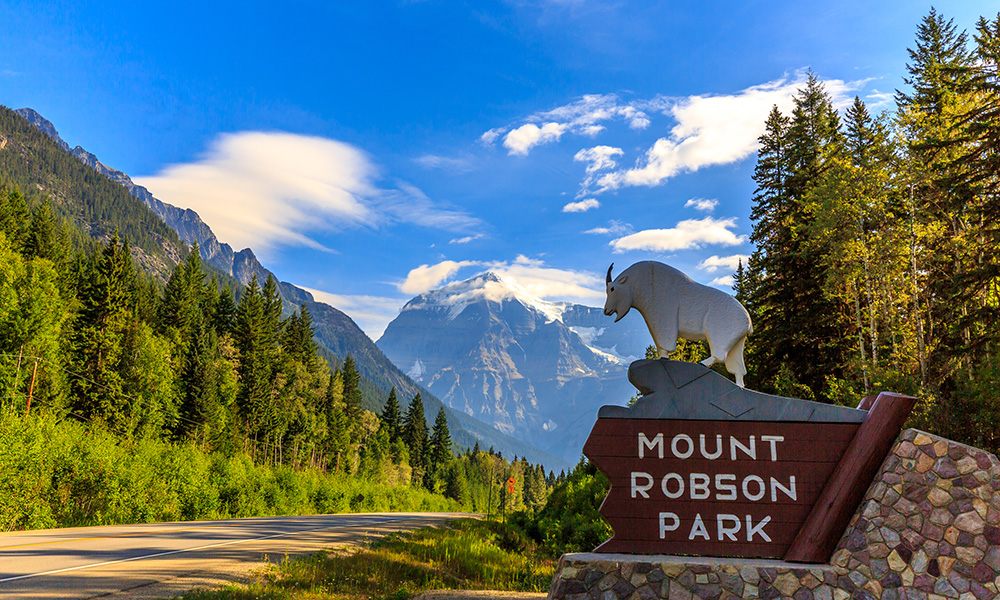 More about Mt. Robson:
Mount Robson Park's flora and fauna epitomize the western slope of the Rocky Mountains, North Continental Range. On some trails, you can travel between three different vegetation zones during a day-hike. Berg Lake trailhead is conveniently located 5 minute drive from our lodge.
More than 182 species of birds have been documented in the park. All wildlife indigenous to the Rocky Mountains can be found here. Mule and whitetail deer, moose, elk, and black bears call the lower elevations home. Grizzly bears, caribou, mountain goats, and mountain sheep inhabit the higher elevations.
In more than 217,000 hectares of mostly undisturbed wilderness, wildlife populations are allowed to ebb and flow with minimal intervention from humans. There are excellent wildlife viewing opportunities throughout the park. From mountain goats on the many cliffs and rockslides to moose in low wetland areas, patient observers will be well rewarded.
Park Contact & Reservation Information
Visit camping.bcparks.ca or call the reservation call centre at 1-800-689-9025 toll free from Canada and the US or 1-519-858-6161 internationally.
For more information on Mount Robson, be sure to check out our blog category, Mount Robson.