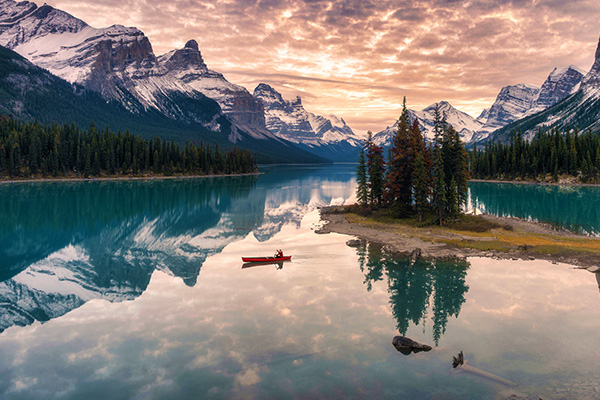 Are you adventurous? Do you love nature and make opportunities to get out in it, closer to it, whenever you can? If you said yes to any of these questions, you should consider guided backcountry tours of Jasper National Park.
The majestic Canadian Rockies contain some of Canada's best backcountry: rewarding trails with stunning views that make for incredible, guided hiking, walking, skiing, and snowshoeing experiences – whether you're experienced or a hardy newcomer. There are even backcountry lodges for those interested in multi-day, overnight ski and snowshoe trips.
Guided backcountry tours provide you with a lot more than just a mildly knowledgeable trail companion. These are experts trained and experienced enough to make sure you will have a challenging – but not overwhelming – and safe adventure.
Guided, backcountry tours are available for all levels of interest and ability, allowing you the freedom to explore the natural wonders of the Rocky Mountains without getting in over your head. Exploring with a certified, knowledgeable guide provides for an exceptional experience, a chance for growth, and some unforgettable memories.
Numerous companies offer guided backcountry tours of Jasper National Park as well as other parts of wild Canada:
Jasper Vacations
Jasper Vacations offers dogsledding, snowshoeing, canyon ice walks, and more!
Yamnuska – Canadian Rockies Hiking
Yamnuska's Mountain Adventure Guides can get you on your way to backcountry skiing, ice climbing, and custom trips designed around your interests and abilities.
Alpine Club of Canada
The Alpine Club of Canada offers guided backcountry skiing, mountaineering, mixed, and ice climbing adventures.
Lodging in Jasper National Park
You could stay in some remote, drab hotel or motel, and face that long slog in to Jasper National Park *or* you could stay with us, here at Mountain River Lodge at the foot of Mount Robson and on the doorstep of Jasper National Park. Make us your home base and realize not only convenience and comfort but a more fitting place from which to launch your guided backcountry tours of Jasper National Park. We're looking forward to meeting you!