THE LARGEST OF CANADA'S ROCKY MOUNTAIN PARKS
A scenic 45 minute drive away from Mountain River Lodge.
Along the way to the park, just 45 minutes from the lodge, watch for wildlife. You may see moose at Moose Lake, bears along the side of the road foraging for berries, and the large herd of wapiti (elk) that have made the valley floor of Jasper National park home for over 10,000 years. Jasper spans 10,878 square kilometers (4200 square miles) of broad valleys, rugged mountains, glaciers, forests, alpine meadows and wild rivers along the eastern slopes of the Rockies in western Alberta. There are more than 1200 kilometers (660 miles) of hiking trails (both overnight and day trips), and a number of spectacular mountain drives. Jasper joins Banff National Park to the south via the Icefields Parkway, and joins Mount Robson Park to the west.
Jasper National Park Photo Gallery
Click on images to view larger photos.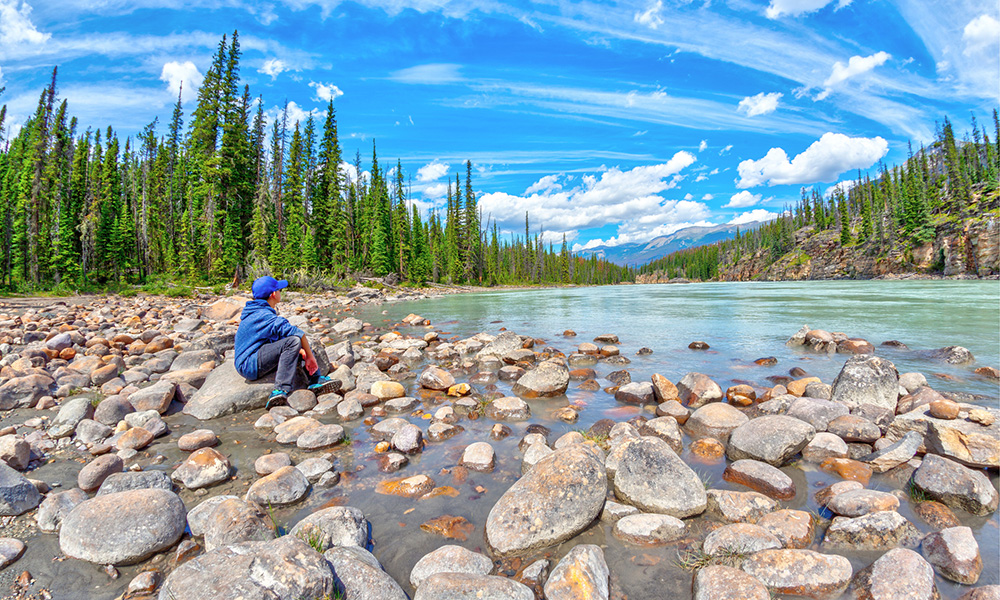 More about Jasper National Park:
The Columbia Ice field borders the parkway in the southern end of the Jasper Park. It's the largest of the chain of ice fields along the Great Divide separating Alberta and British Columbia. This 325 square km accumulation of ice feeds eight large glaciers.
Visitors are warned NOT to walk out onto the glacier. Guided tours are available. Large numbers of elk, bighorn sheep, mule deer and other large animals, as well as their predators make Jasper National Park one of the great protected ecosystems remaining in the Rocky Mountains. This vast wilderness is one of the few remaining places in southern Canada that is home to a full range of carnivores, including grizzly bears, mountain lions, wolves and wolverines.
Athabasca Falls: Among the most powerful and breathtaking falls in the Rocky Mountains, the Athabasca River thunders through a narrow gorge where the walls have been smoothed and potholed by the sheer force of the rushing water.
Mount Edith Cavell: Few summits in Jasper Park can match this craggy beauty. A small, powder blue meltwater lake and beautiful Angle Glacier are easily reached by a short self-guided trail that winds its way through the moonlike terrain of rocks left behind by past iceages. Another longer trail leads to lovely alpine flower meadows.
Miette Hotsprings: These natural hotsprings are the hottest in the Canadian Rockies, and have to be cooled to a comfortable temperature for you to enjoy. As modern as any pool, the days of bathing on the rocks and in mud are no longer, but it is very enjoyable non the less. The facility includes 2 hot pools, a cool pool, and a café. Swimsuits and towels are available to rent.
Jasper Tramway: Canada's longest and highest aerial tramway. This gondola whisks you up Whistler's Mountain to an elevation of 2285 metres (7500 feet) for stunning vistas of mountain peaks as far as the eye can see. A hiking trail leads you up the summit of the mountain where you can see Mount Robson on a clear day, over 80 km away. Gift shop and cafés are available. www.jaspertramway.com
To learn more about Jasper National Park, visit Parks.Canada.ca/pn-np/ab/Jasper as well as our blog category, Jasper National Park, as well as our Maligne Lake page.