Take advantage of traveling in the shoulder season, before the crowds come to one of the most beautiful parks in all of the Canadian Rockies.
We will also reward your early travel decision with a discount on your lodging. Book now for a stay between May 21 – June 20 and receive:
10% off 2 nights
15% off 3 nights
20% off 4 nights & more
If you come during this time of year, you will find snow still on the ground in many places, but with green blades of grass poking through and new buds on all the branches. It is a magical time of rebirth in the mountains! Often still very empty with few visitors before the warmth of summer days.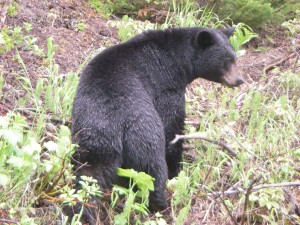 Another benefit of arriving at the park early: wildlife viewing. Baby animals are being born, bears are coming out of hibernation and many animals in the park are ready to forage for food after the long, hard winter. Bears wake up hungry after winter in the high country of the Canadian Rockies. Spring mushrooms and dandelions are some of the first plants to grow, and bears find these delicious! Beside the highways and roads in Mount Robson Park are fields of yellow dandelions, which a foraging bear will quickly devour as he moves through the area and munches the tops off the flowers. It's hard to imagine that a cow would do a better or faster job than the hungry bear!
Mt Robson Lodging for a Springtime Adventure
Whatever time of year you decide to visit Mt Robson Park – whether it is deep in the winter for peaceful solace in the cold, white snow, or an adventure among the greening hills and mountains of spring, we offer both cabin and bed and breakfast lodging for your trip to the park.