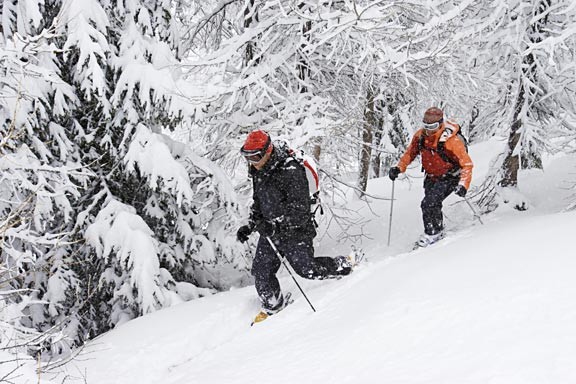 Jasper National Park is a popular destination year-round because there is always something to do here, no matter the season – and just now it's time for cross-country skiing. With over 300 kilometers of trails to choose from in the park, there is something for everyone.
Maligne Lake
With trails for all levels of skiers, Maligne Lake may have some of the best cross-country skiing in Jasper National park. The Moose Lake trails and the Lake Trail loop are perfect for beginning skiers while more confident skiers will want to check out the Lorraine Lake loop.
Pyramid Bench
Pyramid Lake Road is the starting point of a number of mid-level trails. Pyramid Bench Loop is only 4.7km long but the views of Athabasca Valley make this trail a must-do. For a longer run, try the Mina/Riley Loop, which is around 7km of intermediate level, gently sloping terrain.
Athabasca Falls / Whirlpool Valley
This area is loaded with both great trails and views. Moab Lake Trail, in particular, is a favorite: 18km of cross-country awesome. The Whirlpool Campground Trail, at 4.5km, is a good alternative for those looking for something less intensive.
Whistlers Campground
Close to Jasper, this area is one of the best for family groups and beginning skiers with some great views and skiing.
Evelyn Creek
For upper-intermediate and advanced skiers, the Evelyn Creek Loop is a 12km trail up the Bald Hills fire road to Skyline Trail.
Whether you're after short loops and gentle slopes or a wilder, more challenging cross-country skiing experience, Jasper National Park fits the bill. Check out these helpful links below for more cross-country skiing trail maps and conditions:

Lodging Near Jasper National Park?
Mount Robson Inn is a 45 minute drive away or less from the trails listed above. We'd love to host you during your cross-country skiing vacation to Jasper National Park. We can offer advice about trails and things to see while you're here as well as keep you warm cozy, and get you ready for a full day of skiing with a warm, hardy breakfast. Check us out!