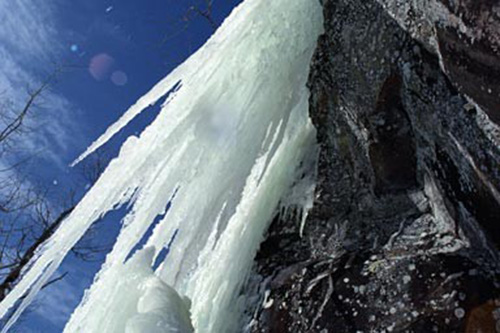 Maligne Canyon, just north of Jasper, Alberta, is a beautiful place to visit, no matter the time of year but, in winter, the canyon's river freezes up, creating a world like no other you've ever experienced but which you now can, via a Maligne Canyon Icewalk!
Maligne Canyon is the deepest canyon in Jasper National Park, with steep, limestone walls that, in the summer, rushes with churning waters. Come the cold of winter, however, those same waters recede quite a bit, leaving stunning and beautiful formations of ice behind.
Imagine the kinds of formations you're used to seeing in caverns – stalactites, stalagmites, flowstone, soda straws and more – now picture these formations and others made entirely of ice. 30 meter-tall, frozen waterfalls ascending canyon walls aalong with other amazing, natural ice sculptures.
But that's not all – the limestone walls of the canyon, themselves, reveal a their own secrets when the water recedes. View in wonder the strata that clearly illustrates the billions of years of gradual formation as well as the fossils embedded within – a paleontologist's dream.
So secure a guide company, strap on some anti-slip cleats, and take an icewalk! Maligne Canyon Icewalk guides are knowledgeable and will not just show to you but also explain all that you see: the ice, the river, the canyon, the fossils. With washrooms, a restaurant and a gift shop nearby, there's no excuse to not go!
Some guide services even offer night tours of the Maligne Canyon Icewalk – a truly, other-wordly experience as you view the canyon and its ice formations in the glow of a headlamp and, even more breathtaking, under stars!
Maligne Canyon Icewalk
Book your tour with one of these three, outstanding and knowledgeable companies:
• Jasper Adventure Centre
• Maligne Adventures
• Sun Dog Tours
Jasper Lodging
Mountain River Lodge has cabins and a bed and breakfast lodge. Make us your lodging choice during your visit to Jasper National Park – you wont regret it!