If you're just joining us, we are sharing a Top 10 list of winter activities in Jasper National Park. Click through to see the first half of the list from our earlier post.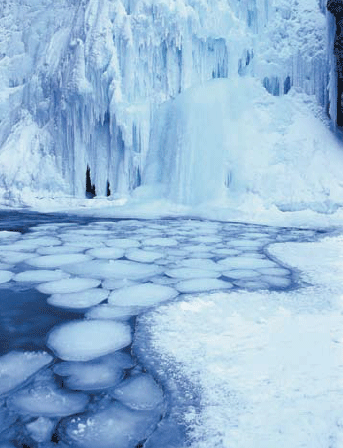 5. Observe Ice Formations at Maligne Canyon. With its frozen waterfalls, surreal ice formations and frosted limestone walls, Maligne Canyon is a magical place in the winter. Several local tour companies lead guided walks down into the canyon. The adventurous can ice climb with a certified mountain guide, or go on your own, if you have the skills. Maps and guidebook are sold at the information center and local outdoor shops.
6. Ice Skate. What could be more Canadian than pond skating? The ice is monitored and cleared for skating at Mildred and Pyramid lakes. Both locations offer free-skating ovals and rinks for shinny hockey. Once in a while, temperatures drop before the snow falls, leaving many ponds and lakes covered in a thick layer of transparent ice. In these conditions, it seems you are flying across the ice! Make sure you have the necessary safety information before heading out, Parks Canada does not monitor the ice.
7. Backcountry Touring. For those seeking adventure, Jasper's vast backcountry awaits. On skis or snowshoes, hardy travelers can visit the remote corners of Jasper National Park. Not sure winter camping is up your alley? Several local companies and the Alpine Club of Canada offer backcountry lodges with varying services. Winter backcountry travel requires training, knowledge and self-reliance. If you are inexperienced, hire a guide or or join the Alpine Club of Canada on one of their mountain adventures.
8. Go Fish. Fishing in winter? Why not! Believe it or not, winter fishing is a popular sport in cold climates. Fishing is about more than just catching dinner: enjoy the serenity of wild places in winter. The information center and local shops sell fishing permits and provide information and advice.
9. Get some History. Aboriginal travelers, fur-traders, explorers, early tourists and other from the past have left their mark on Jasper National Park. Find out more about these early inhabitants by visiting the Jasper Yellowhead Museum and Archives or visiting one of Jasper's National Historic Sites.
10. Relax! Wild or tame, creatures instinctively slow down when the temperature falls. Take advantage of this quiet time in Jasper by slowing down as well. Enjoy the many restaurants, clubs, shops and spas the town of Jasper has to offer. Our Jasper National Park lodging, Mountain River Lodge, can also help you unwind.