Maligne Lake, the largest in Jasper National Park (22 km). It's one of the most beautiful sights in the Rockies, a popular day-use area, and the jumping-off point for boat trips and hiking trails. One of the popular things to do is explore the popular Spirit Island by cruise boat. This is one of the most famous views of the Canadian Rockies.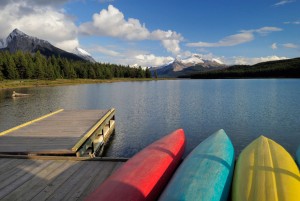 Just a few kilometers outside of Jasper town heading east, you will find the road to Maligne Canyon and Lake. Although the Canyon is just a few minutes on this road, the lake itself is 65 km further. One of our favorite walks, don't miss the interpretive trail as it winds its way from the start at the Teahouse across 6 bridges where you can stare down the deep gorge and feel the spray of the thunderous Maligne River below. Then continue by car to mysterious Medicine Lake, a place of old Indian legend. Due to a unique drainage system connected underground to other lakes, the water level changes from season to season… sometimes it actually disappears completely! Your final destination is at the end of the road, where you are at the start of spectacular Maligne Lake. Stretching 22 km long, it is the second largest glacier-feed lake in the world. A one and a half hour boat cruise will take you past glacier-studded mountains to famous Spirit Island. Located 1 to 2 hour drive from Mountain River Lodge.
There are a couple of companies which offer long scenic tours:
Maligne Tours Ltd.
616 Patricia Street
(780) 852 – 3370
Email: maligne@malignelake.com
You can also contact pat@malignelake.com for private boat tours.